Seminar on Biosemiotics
In 1988, I organized a wekly seminar on biosemiotics at Moscow State University, Russia. I invented the term "biosemiotics" to emphasize the semiotic nature of life. As I discovered several years later, this term has been used already by Friedrich Rothschild in 1962, and Juri Stepanov in 1971. The seminar on biosemiotics was a continuation of the working group on Theoretical Biology that was organized by Alexander Levich in 1974. Activities in this group included regular seminars, classes on advanced mathematics (mathematical logic, set theory, group theory, topology, categories), and winter schools which usually had >150 participants. Active participants included Sergei Meyen (paleo-biologist) and Yuli Schreider (mathematician and semiotician). In 1978 the group was dissolved by the order of the dean, who suspected that the activities of the group did not match well with the communist regime in Russia. Within the seminar on biosemiotics I tried to follow the traditions of our previous working group on theoretical biology. In January-February 1989 we had our first winter school on biosemiotics in Soushnevo (near Moscow). The second winter school was in January-February 1990 at the same location. We had 100-120 participants, some of them can be found on the photograph below which was taken in 1990 in Soushnevo (click on the photograph to enlarge it).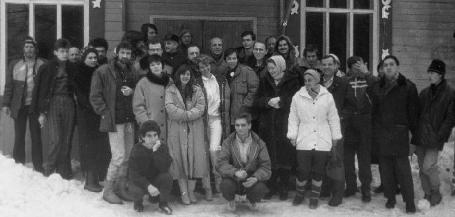 Below find some topics of our discussions.
Alexei Sharov (me) developed several concepts that can be found in my papers: "Biosemiotics: A functional-evolutionary approach to the analysis of the sense of information" and "Theory of self-reproducing systems". Self-reproduction is necessary for development of information because self-reproducing systems (SRS) have internal goal - to reproduce, and this goal determines the value of information. Information develops only if it has value.
Sergei Chebanov develops the theory of biohermeneutics. He thinks that the term biohermeneutics is better than biosemiotics because hermeneutics considers integration of a text with personal activity of the author and the reader. The methodology for studying living systems has not been developed yet. It is mostly adopted from physics, which is targeted at studying non-living systems, and humanities which are anthropomorphic. Chebanov suggests to consider living organisms as centaur-objects which combine physical-chemical structure with semiotic content.
Vasili Ogryzko considered evolutionary adaptations as analogs of cognition. Genotype describes not only morphology, but also organismís activity in the world. Heredity is not determined solely by genes but also by epigenes which allow to read and interpret genetic information. Epigenes evolve parallel to the evolution of the genotype. Language is a part of the epigenetic system. He also discussed possible quantum-mechanical mechanisms of adaptive evolution without natural selection.
Alexander Sedov discussed the semantics of forms (morphology) and coding texts (DNA sequence) in the systematics of organisms. He thinks that the analyses of texts and forms are complimentary and both essential for biology. Molecular biology becomes a genolinguistics.
Andrei Igamberdiev developed the conception of biological whole based on principles of quantum mechanics. He argued that irreversibility and wholeness of organisms result from non-local dynamics (Prigozhin). There is no instantaneous "states" of an organism; present time has a non-zero duration. Non-local dynamics is essential for stable functioning and homeostasis of biological systems.
S. A. Titov discussed the use of the notion "context" in biological systems.
---
Alexei Sharov - 3/15/97