+h are standard deviations of samples located at the tail and head of vector h.

Other measures of spatial dependence are covariance function:

and variogram (=semivariogram):

The correlogram, covariance function, and variogram are all related. If the population mean and variance are constant over the sampling area (there is no trend) then:

where C(0) is the covariance at zero lag = variance = squared standard deviation.
Typical variogram has the following shape: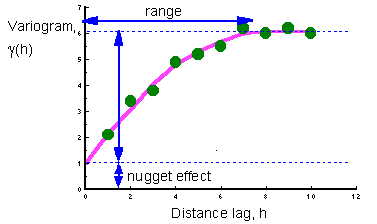 Interpretation of the nugget effect: It shows the pure random variation in population density (white noise) or it may be associated with sampling error.
Examples of one-dimensional spatial distributions with different nugget effects and corresponding variograms: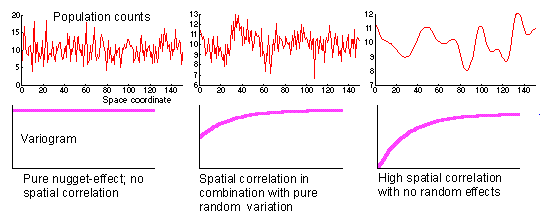 Anisotropy: different spatial relationships in different directions
A variogram with anisotropy and corresponding spatial pattern: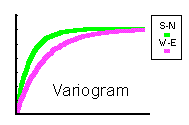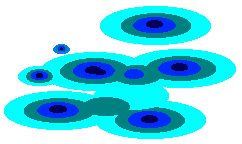 Log-transformation of data may be necessary before variogram estimation:
Transformation is necessary to make the distribution more symmetrical and to remove the trend in variance. In a log-normal distribution, variance is proportional to the mean squared. Thus, in high-density areas, the variance is higher than in low-density areas. After log-transformation the variance becomes uniform.
Note: If zero values are present, use transformation: log(N+1).
Some times indicator transformation is used:

where c is a threshold value ("a cutoff").
Usually, a series of thresholds is used, and variograms are estimated for all of them. If one threshold has to be selected, then the best is to take the median threshold m which corresponds to the 50% cumulative probability distribution.